BOOKS BY EILEEN MERRIMAN
My first book for adults, Moonlight Sonata, is now an audiobook and is now available for download via a number of sites, including audible.com: Moonlight Sonata audio
My fourth book for young adults, A Trio of Sophies, will be released March 2020 in New Zealand and Australia, and will be released in Germany in the second half of 2020 – follow the link here for more details: A Trio of Sophies
And here to read an extract: A Trio of Sophies extract
(click on image for details)
Pieces of You
Publication Date: May 2017
Wise, tough, heart-breaking, funny, this compulsive love story is about facing your demons. Fifteen-year-old Rebecca McQuilten moves with her parents to a new city. Lonely but trying to fit in, she goes to a party, but that's when things really fall apart. I couldn't tell anyone what had happened. Especially since I was the new girl in town. Who would want to believe me? Things look up when she meets gregarious sixteen-year-old Cory Marshall. 'You're funny, Becs,' Cory said. 'You have no idea,' I said, and clearly he didn't, but I was smiling anyway. And after that, he was all I could think about. Cory helps Rebecca believe in herself and piece her life together; but that's before he shatters it all over again …
Available from bookstores around NZ and Australia, or order here: Pieces of You Book Depository
Read an extract here: Pieces of You extract
Read Instagrammer Reviews here: Instagrammer reviews
Read my interview in The Herald here: Stories that heal the harm – NZ Herald
Listen to my Radio NZ interview here: Debut Novel from Eileen Merriman
Catch Me When You Fall
Publication Date: 2 January 2018
A moving novel about learning to find happiness in the face of uncertainty, a love that transcends the fragile boundary between life and death, and the power of Schrödinger's cat.
Seventeen-year-old Christchurch teenager Alex Byrd is a survivor, but is about to face what is to become the worst day of her life and the best. On the same day that she has a routine blood test that reveals her deadly leukaemia has returned, she also meets Jamie Orange.
Some people believe in love at first sight, and some don't.
I believe in love in four days.
I believe in falling.
Both have big dreams but both have huge obstacles in the way: Alex's only hope for a cure is to have a risky bone marrow transplant; Jamie meanwhile has bipolar disorder.
'Promise me you won't try to die,' I said. 'Ever.'
'Promise me you won't either,' he countered.
'It's not really something I can control.'
Read an extract here: Catch Me When You Fall Extract
Invisibly Breathing
To be released: March 5, 2019.
Read an extract here: Invisibly Breathing extract
"Author Eileen Merriman has created characters and situations which numerous young people can easily connect with. It makes this more than just a book to be read, but gripping literature which both celebrates love and also exposes society's harmful behaviour towards love that is not considered 'conventional'. As a reader, this made for a read that was both refreshing and thought-provoking. Rating 5/5 stars" Faga Tuigamala, Tearaway
"Eileen Merriman is at the top of her game as a writer. Her descriptive prose is a delight and the dialogue between the characters is totally believable. She deals with a sensitive subject with aplomb and knowledge. I couldn't put it down and nor will you. Definitely senior fiction but anybody out there agonising over their sexuality be assured this is the book for you." BobsBooksBlog
"The novel tackles homosexuality and bullying – both at school and at home – and Merriman doesn't shy away from the topics. They are handled professionally and realistically while also coming to a gritty end. The story itself cracks along at a smart pace, and the plot kept me turning pages. The story sucked me in and it was difficult reading the final quarter of the book because of the abuse. In saying that, the ending was a wonderful salve and was expertly handled by Merriman. It is, again, both realistic without being too clinical. Invisibly Breathing is an intensely moving story about unconventional love, bullying, and being true to yourself. It's an important message for our youth to hear and I have no doubt it will be of immense help to some readers. For those not directly experiencing a life like Felix or Bailey, Merriman offers reassurance and understanding. Merriman is a formidable writer and her stories are an important addition to New Zealand young adult bookshelves." Rebekah Fraser, NZ Booklovers
"Eileen Merriman becomes a more skilful and confident storyteller with each novel. Invisibly Breathing (2019), her third young adult novel, introduces two completely convincing young men. The dialogue is crisp and convincing and their characters are well drawn. . . . Merriman has written a sympathetic account of the growing attraction between the two young men, but she has also created a plausible range of characters around them, so the reader can understand the tragic events which follow Felix and Bailey's realisation that they are in love. Invisibly Breathing is a gripping account of two young men on the brink of manhood, uncertain and deeply involved emotionally, facing the reactions of their family and friends. It is also a story about infinity, prime numbers, text messages, prejudice, breathing, Facebook, acceptance and anagrams. It is a moving story, well told." Trevor Agnew, Magpies
"How on Earth is Eileen Merriman writing a book a year and making each one better than the previous one?! This tale of two troubled 16-year-olds finding in each other an oasis from everyday chaos is extremely well-executed. The story is told in alternating voices, and it is smoothly done – you never lose sense of time passing. In fact, it is so well done I ignored my family and finished it in a matter of hours. . . . Is Bailey the first bisexual person in New Zealand mainstream YA? I think this may be the case. How ridiculous is that – and how awesome is Merriman for changing it. . . . I think, as with her other two books, the emotional truth is what really pulls the reader in. . . . Merriman has a knack for keeping those pages turning, with short, snappy sentences and perfectly pitched chapter endings. The ending is fast-paced and explosive – and very satisfying. I recommend this for any teen who enjoys contemporary love stories, and books set in their own reality." Sarah Foster, The Sapling
"Bullying, homophobia and being an outsider – Merriman tackles plenty of tough topics in this moving and delicate novel. . . . Merriman's refreshing and modern take on romance is exactly where YA literature needs to be in 2019. Combine modern romance with topics such as bullying and belonging, add in a distinct New Zealand flavour, and this book is a winner. . . . Invisibly Breathing handles its tough topics with sensitivity and sophistication, and Merriman's writing is brave and fierce when it comes to dealing with difficult ideas in our society. . . . the calibre of Merriman's writing is simply one of the best in New Zealand's YA scene, and she knows how to keep readers hooked. . . . Merriman writes what teenagers want to read, and she certainly knows how to write it well." Hannah Marshall, aged 16, NZ Books
"Merriman explores themes of isolation, self-awareness, poverty, family violence and the tender joy of first love with a sure hand. Nothing preachy, just real, bitter-sweet life. . . . Merriman is a master at creating an authentic sense of voice, making Felix and Bailey compelling and engaging protagonists. I believed every word on every page and could not put the book down, devouring it in two days. I *achy groan* loved Invisibly Breathing. Rachael Craw, KidsBooksNZ
"The developing relationship between the two young men and their desire to be accepted by society, is the main focus of the book and is explored in a sensitive, straightforward manner. However, the relationships within their respective families remind us that while non-conventional relationships may be challenging in many ways, conventional relationships also have their pitfalls and the ability to turn sour. Highly recommended for young adults." Anabel McPhee, NZ Book Council
"Eileen Merriman's powerful third novel has an orthodox quality, too, though in her case it's the orthodoxy of super-real, super-current fiction. . . . Alternating between the two boys' voices, Invisibly Breathing outlines a sympathy that deepens into friendship, then affection, then mutual attraction. It deftly renders the wonder and fear of Felix and Bailey as they joyously, fearfully, comprehend the trajectory they're on. . . . It's a clever book. Ingenious chapter headings, smart sentences, inventive glides of plot and relationships. It's very contemporary, veined with phones and txts and Twitter and Grand Theft Auto V. There's a stadium-sized cast of kids, and Merriman gets their blitheness, erratic fuses, invulnerability-cum-fragility spot-on. . . her book is bloody good." David Hill, NZ Books
Moonlight Sonata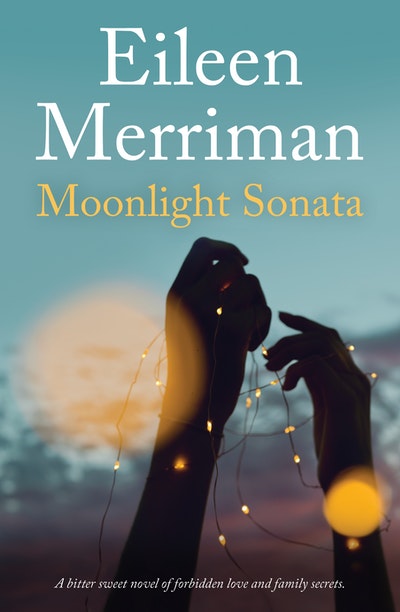 Read a review in the Weekend Herald here: Weekend Herald Review Moonlight Sonata
Read an extract here: Moonlight Sonata extract
FORMATS & EDITIONS
Trade Paperback

9780143773450

July 2, 2019

RHNZ Black Swan

288 pages

EBook

9780143773467

July 2, 2019

Random House New Zealand

288 pages

PRE-ORDER